COFFEE MUGS
Order Cute, Funny, and Personalized Horse and Equestrian-themed coffee mugs in a variety of styles.
---
Peace Love Horses Mug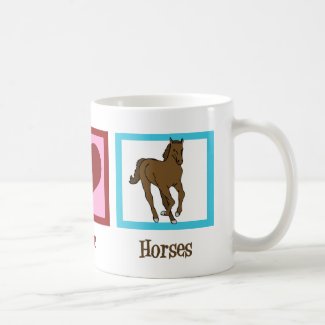 This design available in several different mug types and sizes.
---
Personalized Teal Horse Coffee Mugs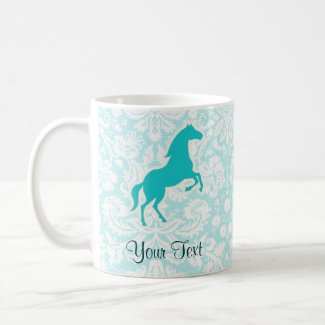 You will love this cute teal damask horse horses equestrian stallion colt design. Custom text; any name can be added.
---
WILD HORSES CUP COFFEE MUGS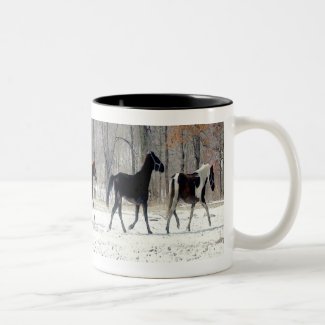 Available in multiple colors and sizes. Dishwasher and microwave safe.
---
Personalized Horse on Diamond Pattern Template Mug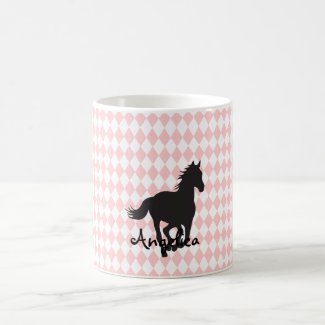 Customize both the name and the color of the diamond pattern behind this running horse. Perfect for the pony who has it all...but more likely to be used by a girl who loves horses.
---
Cowboy Mug
Mug is crafted of reactive glaze finish stoneware. Rich brown, tan, & red hues.
---
Cowboy Prayer Coffee Mug
The ultimate coffee mug for a cowboy of faith! Image of cowboy kneeling in front of cross with horse. What's a better way to get your day started than a cup of coffee in your own Cowboy Prayer coffee mug? 16-ounce mug mug is crafted of reactive glaze finish stoneware. Rich brown, tan, & red hues. Imported.
---
Cowgirl Coffee Mug
Two-tone glazed finish. 16-ounce mug. Microwave & dishwasher safe. Coffee mug is crafted of reactive glaze finish stoneware. Rich brown, tan, and red hues.
---
Ceramic Cowgirl Mug
The ultimate cowgirl coffee mug! Yellow & orange. Blue "Cowgirl" engraved text. 16-ounce. Microwave & dishwasher safe
---
Swedish Dala Horses with Christmas Folk Art Border Mug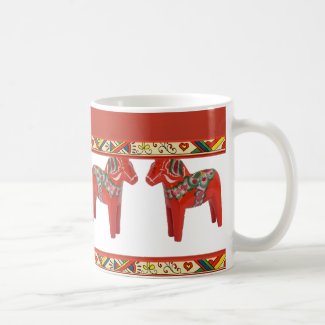 Swedish Dala Horses with traditional Scandinavian folk art border in vibrant colorful red, blue, yellow and green old country design. Dala horses are frequently seen in Scandinavian homes during the Christmas holidays. Perfect for a nice cup of glogg!
---
Cowgirl Riding Her Horse (pink) Mugs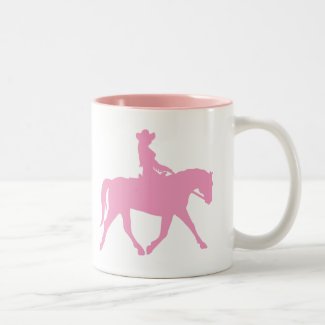 Cowgirl Riding Her Horse silhouette (pink) t-shirts, shirts, apparel & gifts feature a silhouette image of a cowgirl riding her horse. Great graphic for cowgirls, and the cowboys who love them! This design is available on fun gifts items and stickers, magnets, note cards, tote bags, hats, mugs, travel mugs and more at PetWorld Gifts Store. This is the pink version, also available in white and black.
---
Morgan Horse Art Lovers Mug Set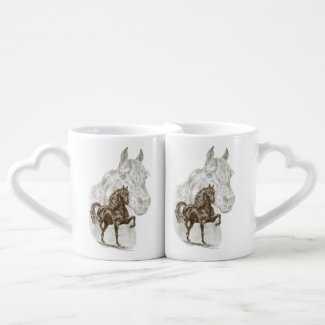 It's a match made in heaven for this lovers' mug set! Made to perfectly fit together, this ceramic mug set is a great gift for a wedding, anniversary, Valentine's Day, Sweetest Day, or any other special occasion. The heart shaped handles on each mug add an extra touch of love to this already very romantic gift!
This montage artwork in a Morgan Horse theme was created by pencil artist Kelli Swan. The original black and white pencil drawing has been hand-tinted with color details to create this final look. Visit Kelli Swan Equestrian Art Gifts for art prints, greeting cards, and other horse gifts featuring her artwork.
---
Keep Calm and Ride On - horses, all colours Coffee Mugs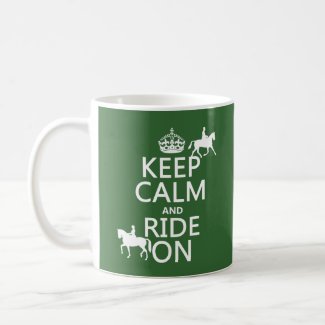 Equestrian themed design consists of horse silhouettes surrounded by the "keep calm..." text. Customized to your choice of 20 different colors.
---
MANY MORE like this at Horse Mugs at Zazzle.
---
---
LIKE us on our new Facebook page for fun horse stuff and product updates!